The future of modern medicine | Community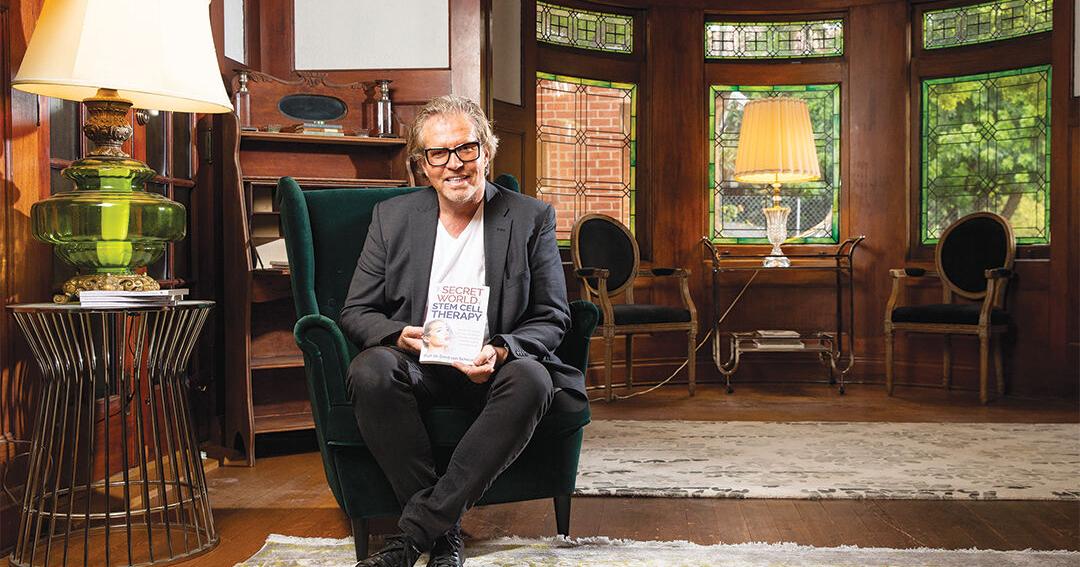 Renowned cardiologist publishes book on stem cell therapy and its benefits
Stem cell therapy is a type of regenerative medicine that promotes the human body's ability to repair and heal itself naturally by introducing special human cells (called stem cells) that can grow into just about any type cells, including brain and muscle cells. Stem cell therapies have been used in thousands of clinical trials to treat various conditions such as Crohn's disease, multiple sclerosis and Alzheimer's disease, although the only approved stem cell treatments by the FDA at present are those used in procedures such as bone marrow transplants for patients with disorders affecting blood production.
Renowned cardiologist and professor, Dr. Ernst von Schwarz, is a world pioneer in the field of stem cell research who has participated in numerous clinical trials using stem cells for different conditions, including a study he published in 2021 which showed the promising benefit of using stem cell therapy to treat critically ill patients with COVID-19.
A clinical cardiologist and triple-board certified academic, he is a clinical professor of medicine at UCLA and joined Cedars Sinai Medical Center and UCLA as professor of medicine and director of the Cardiac Devices Program in 2006. In 2015, Schwarz was named director of cardiology. , director of the Cardiac Catheterization Laboratory and director of the Heart Institute at Southern California Hospital in Culver City.
"I was lucky enough to be involved in stem cell research early on and became fascinated with the whole idea," Schwarz said. "I participated in an experimental study over 25 years ago where we used heart cells from pregnant rat embryos and transplanted these embryonic cells and stem cells into damaged heart tissue of host animals. We were the first to show the world that not only could these cells survive in the recipient tissue for several months, but that there was a noticeable improvement in the animals' heart function.This was one of the first studies showing the potential of the use of embryonic cells and stem cells for possible tissue regeneration and this has created a lot of hype among clinicians.
Pursuing a career in medicine came naturally for Schwarz, who comes from a line of physicians that dates back to the 1700s, when one of his ancestors served as Austrian Empress Maria Theresa's personal physician.
"It's very rewarding to be able to help people and take care of patients, especially the really sick ones who need more than standard therapies," Schwarz said. "It's also exciting to participate in research that will continue to move us in a new and different direction in the future. There is a big shift from reactive medicine where we treat patient symptoms caused by disease to regenerative medicine, where we don't just treat symptoms, we repair damage to increase lifespan and longevity.
In May 2022, Schwarz released her new book, "The Secret World of Stem Cell Therapy: What You Need to Know About the Breakthrough in Health, Beauty, and Anti-Aging." It was written to educate the general public about stem cells, to differentiate between false advertising and the validity of scientific research, and to help them know what questions to ask when considering stem cell therapies. The book is also aimed at healthcare providers who want to learn more about modern medicine and regenerative therapy.
"It's not a medical textbook, it's an information guide for those who might be interested in stem cell therapy," Schwarz said. "I knew it was necessary because there's not much there. What little has been published comes either from researchers and they are very technical, or from clinicians with no scientific training and lack a lot of basic information. My job is to report the scientific facts – what is known about stem cells, stem cell studies and research – as well as the regulatory and legal issues surrounding them. There's a lot of fake marketing and advertising, and places with no scientific reputation are offering stem cell therapies just to make a quick buck. This book should also be taken as a warning not to believe everything you see or hear.
Schwarz spent a year writing his book in the basement of the historic home he owns in Los Angeles. The Rosenheim Mansion, known to "American Horror Story" fans as the "Murder House," was featured prominently throughout the popular TV show's first season. The house is also rumored to be haunted, and Schwarz mentioned that while writing the book in the basement he had some unusual experiences but couldn't delve into the subject further at this time.
Following the official book launch, Schwarz hosted a special event for the public to introduce the book and raise awareness of the need to support stem cell research while raising funds for humanitarian aid to Ukraine. He is also involved in other clinical studies involving stem cell therapy for various conditions and looks forward to continuing his research and publishing more in the future.
"So much is happening every day in the world of stem cell research," Schwarz said. "Every study that has been published has shown benefits and even though they are not FDA cleared at this stage, there is enormous potential. There is also growing demand for the anti-aging benefits of stem cell therapy. in skincare and for the treatment of hair loss. I remind my patients that these services are experimental and not approved, but they work. It's absolutely amazing what stem cells can do for the life and health of a person.
"The Secret World of Stem Cell Therapy: What You Need to Know About Breakthrough Health, Beauty and Anti-Aging" is available for $17.95 (paperback) and $8.49 (Kindle, NOOK Book). The book can be purchased at Barnes & Noble, Amazon, Target and other retailers.
Dr Ernst von Schwarz
drvonschwarz.com
Instagram: @drvonschwarz