TPH by Taraji launches into the category of hair tools and accessories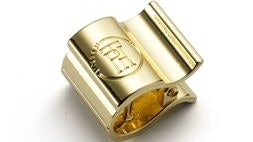 TPH by Taraji has expanded into hair tools and accessories with the release of its Get Your Weight Up extender hair weight.
Related: TPH by Taraji expands into body care
TPH by Taraji promotes scalp and hair health while emphasizing the importance of self-care routines.
Get Your Weight Up Hair Weights are a set of multi-functional hair weights designed to create more length and styling possibilities by reducing shrinkage in curly and frizzy hair types.
Consumers can add Get Your Weight Up Extended Hair Weights to the ends of twists or wet braids after a wash day routine with other TPH by Taraji products. Users can then allow the style to stretch while it dries.
"I created TPH by Taraji out of necessity for the specific needs of textured hair, and the Get Your Weight Up lengthened hair weights are no different!" Henson said. "Shrinkage is real and sometimes we want to get credit for our length while wearing our natural hair. Get Your Weight Up lengthens hair by adding weight to your twist or braid while your hair dries. to avoid techniques that might involve heat to help ensure hair stays healthy.We kept form and function in mind and chose a chic gold finish for a high fashion look while the weight of elongated hair did the job.